Propane Delivery in Connecticut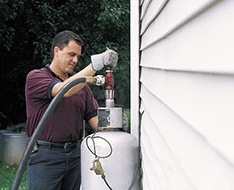 Propane delivery provides fuel for a wide variety of appliances in your home: heating, cooking, fireplaces, swimming pool heaters, gas grills, outdoor heaters and more. Propane is a clean-burning and environmentally safe fuel source. Propane can also be stored for long periods of time, making it an ideal "back up" fuel source - perfect for a fireplace or automatic backup generators to get you through those long Connecticut winters.
Choose Standard and Save
Simple, automatic propane delivery to prevent run-outs
Professional propane tank installation
Safe, expert maintenance by highly trained technicians
Affordable propane tank rentals
Call Today
What does it cost for propane delivery in your area? Call today for propane prices in Connecticut.
Standard Oil's primary delivery area is to the following towns; Bridgeport, Stamford, Norwalk, New Canaan, Fairfield and Darien; but we aslo deliver to many other towns in CT please view our service area page to view a complete list of towns.