Convenient, Automatic Home Heating Oil Delivery in CT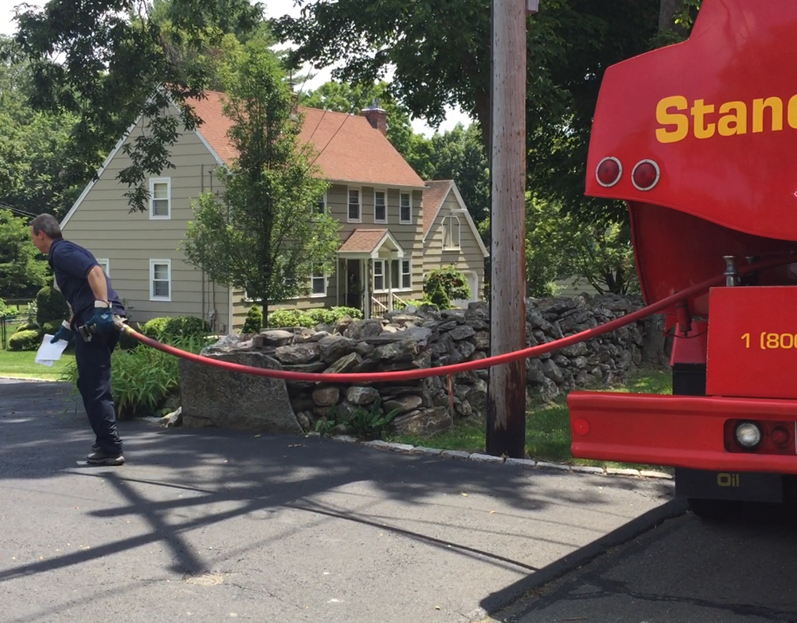 Are you still checking your oil tank level and calling when you need a delivery? Why put yourself through the hassle and run the risk of running out of home heating oil?
With our convenient, automatic home heating oil delivery, we take care of everything for you so you never have to worry about checking the tank again.
Service you can count on
Standard Oil uses a sophisticated, computerized home heating oil delivery system so we can reliably estimate your heating oil usage and dispatch a truck to make deliveries at the most appropriate time. Our advanced system allows us to account for seasonal fluctuations in Connecticut weather or to adjust your heating oil delivery schedule because of a pending snow storm. This unique technology is just one of the reasons why Standard Oil is reliable, affordable and voted the Best Heating Oil Company in Connecticut. Make your life a little easier and contact us about automatic home heating oil delivery in CT today.
Do you have questions about home heating oil delivery or heating oil prices in CT? Call us and speak to our client services experts.
Our heating oil delivery prices are for the following towns in and around Fairfield and New Haven counties in Connecticut: Ansonia, Beacon Falls, Bethany, Branford, Berkshire, Bethel, Branchville, Bridgeport, Brookfield, Byram, Cos Cob, Cranbury, Danbury, Darien, Easton, Fairfield, Georgetown, Glenville, Greenfield Hills, Greenwich, Huntington, Monroe, New Canaan, New Fairfield, New Haven, Newtown, Noroton Heights, Norwalk, Redding, Springdale, and Redding Ridge.
We also provide the same great price for heating oil delivery and service in these CT towns: Ridgefield, Riverside, Sandy Hook, Saugatuck, Shelton, Sherman, Southport, Stamford, Stratford, Weston, Westport, Wilton, Cheshire, Derby, Devon, East Haven, Guilford, Hamden, Madison, Meriden, Middlebury, Milford, Naugatuck, North Branford, North Guilford, North Haven, Northford, Orange, Oxford, Prospect, Quinnipiac, Seymour, Short Beach, Southbury, Stony Creek, Wallingford, Waterbury, West Haven, Wolcott and Woodbridge.
See our complete Service Area for heating oil delivery in Connecticut.