Emme
Tailor temperature to the person or room
Are some rooms in your house always too hot or too cold?
With Emme Room-By-Room, you can finally control the temperature in every room of your house!
---
Emme: The Problem
Why does this happen?
The Problem with trying to maintain a comfortable temperature in your home lies with the limitations of the heating and air conditioning systems themselves. These systems are designed to keep the air surrounding your thermostat at the temperature you desire, but that's it. Even the most advanced systems cannot take into account the impact of sun, wind or shade on each room of your home independently.
Until now, there has never been a practical way to allow each room in your home to get the perfect amount of warm or cold air whenever it is needed. Emme Room-By-Room, an exclusive service of Standard Comfort Systems, has changed that. Now, each room in your home can be the temperature you choose, whenever you choose. No hot spots, no cold spots.
Emme Is So Revolutionary It Was Named a Top 10 Innovation By Popular Science Magazine
Our new system is smart, simple and efficient. It is designed to be retrofitted to existing furnaces and air handlers, so there is no need to turn your home into a construction zone. Most installations can be completed in a single visit. In fact, this new technology is so efficient and effective it can even lower your energy costs by as much as 40%.
---
Emme: The Solution
How do you fix it?
The solution is simple...if you have Emme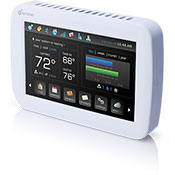 The key to room-by-room zone control is knowing the temperature in each room, that's the purpose of Emme's wireless Smart Controllers. These small sensors are placed in each room and provide the current temperature to the Master Control Unit. Being wireless, Emme's Smart Controllers do not require any remodeling or wiring to install and their two AAA batteries will transmit the temperature for several years. For added convenience, you can make temporary temperature adjustments or place the room in energy-conserving SAVER mode right from the Smart Controller.
Once installed, the sensors and master control unit manage a series of pneumatic dampers that allow the system to isolate and direct airflow to each room of your house. The dampers are tough, designed for years of trouble-free service, and flexible, to provide a tight seal. Our patented installation technique allows us to insert dampers into your ductwork without cutting into walls or floors: the process is quick and mess-free. The result: every room in your house is comfortable.

Contact us to learn more about how our unique system can make your home comfortable again.